International Shogi Magazine is suspended. You can keep promoting your shogi activities using my blog, webpage or youtube channel.
_____
Articles published without issue number and other interesting works:
Shogi, the Japanese cousin of Western Chess, is booming in Japan. Professional players enjoy high social status and the game is a popular pastime all over the country. Matches for the major titles enjoy the attention of all major media and millions of people follow the games of the 19 years old prodigy Fujii Sōta.
_____
Results of votes for the best articles results (prizes yet to be given out).
Prizes will be given accordingly:
Best three articles' authors from each issue (authors receive only one prize)
Special prizes for supporting people
Winners:
Issue #1
Ng Teck Sen (Ketam Ng)
Shun Tokuni
Nicolas Zellner
Issue #2
Richard Sams
Yuji Noguchi
Krzysztof Stoigniew Sieja
Issue #3
(Horiguchi sensei was popular, I will give him other type of prize since he can have all the souvenirs he wants from Japan)
Jim Tan
Austin Rucker
Johan Kocur
Issue #4
Frederik Wiethölter
Frank Jia
(Akiko Nakakura ladies pro was popular, I will give her other type of prize since she can have all the souvenirs she wants from Japan)
Nicholas Robert Beckham
Special prizes:
Petr Makhnev (breathtaking design for the second issue)
Eric Kuniholm (flawless proof-reading)
Eric De Las Casas (amazing cover and illustrations)
_____
While researching shogi development in Europe for my master thesis, I have found many problems that shogi societies are bothered with, for example lack of teaching materials in English, lack of knowledge of how to teach shogi, and lack of information exchange between countries. It is hard to solve those problems quickly – making of the new books is time consuming and information about shogi in other countries is spread in different places on the web.
This is my idea for the solution – making a magazine about shogi:
written by shogi enthusiasts and volunteers (anybody can share their experiences)
online and free (available for everybody)
publishing once per three months (good articles need time)
The magazine contains thoughts, impressions, reports, own analysis, commented games, newest strategies, news from the world, gallery with photos and discussions on various topics.
We hope that it will allow the shogi world to get a "voice" and a platform to exchange information and views. Those are important for shogi promotion in the world.
If you would like to join the project or share your ideas, please contact me by email oneye@windowslive.com or send a message on Facebook ISM group.
Karolina Styczynska, Chief Editor of International Shogi Magazine
_____
International Shogi Magazine Issue 4
Open or download from the link below (PDF file 18.5 MB):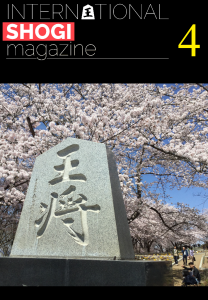 Table of contents:
A Word from the Editor – Karolina Styczynska
Special contest for the best articles 
Ask us a question and we will find the answer! – Johan Kocur
Shogi Dojo Lyon and other study materials – Frederik Wiethölter
Message from I-tsu-tsu Co. Ltd. – Akiko Nakakura
Shogi Mini Puzzles (part 2) – Koji Horiguchi
The element of surprise – Lim Zhuo Loon / Jim Tan
Wroclaw Shogi Club – Krzysztof Sieja
The basic philosophy on Shogi (2) – Ng Teck Sen
Development of Shogi in Indonesia Q1 2019 – Nicholas Robert Beckham
Shogi Australia – First Steps Of Shogi In The "Land Down Under" – Frank Jia
_____
International Shogi Magazine Issue 3
Open or download from the link below (PDF file 35 MB):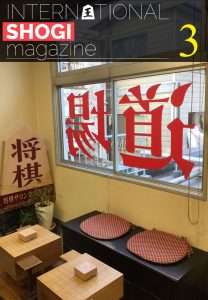 Table of contents:
A Word from the Editor – Karolina Styczynska
Ask us a question and we will find the answer! – Johan Kocur
WSL 2019 Invitation – WSL Team
Top Professionals' Viewpoint: Leading Players Assess Fujii's Shogi; Part I – Mima Kazo / trans. Richard Sams
Shogi Mini Puzzles (part 1) – Koji Horiguchi
Ben Hur (Part 3) – Jim Tan
Why should you visit 11th Cracovia Shogi tournament? – Krzysztof Sieja
The 6th Asia Shogi Tournament 2018 – Jim Tan
Keep King and Rook apart! (comic) – Austin Rucker
The Basic Philosophy on Shogi – Ng Teck
Shogi dictionary – Chi Him Wong
FESA data in web application – Adrian Woloszyn
_____
International Shogi Magazine Issue 2
Open or download from the link below (PDF file 8,4 MB):
ISM 2/2018 (2018/08/13 version: corrected articles "Interview with Sota Fujii " and "Saving Ben Hur")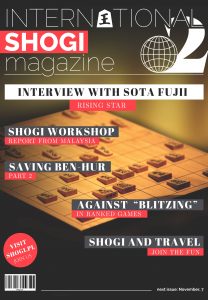 Table of contents:
A Word from the Editor – Karolina Styczynska
Illustration – Eric De Las Casas
Love Poem from the Heart – Marcel Keitsch
Against "Blitzing" in Ranked Games – Krzysztof Stoigniew Sieja
Interview with Sota Fujii – Shogi Sekai/Shinta Kitano (trans. Richard Sams)
Saving Ben Hur, Part 2 – Jim Tan
How to Teach Shogi in Non-Asian Countries? – Grzesiek Adaszewski
Shogi Workshop, Report from Malaysia – Ng Teck Sen
How about Travel with Shogi Pieces? – Yuji Noguchi
Shogi and Neuroscience – Ng Teck Sen
Dan/Kyu Scales – Ishikawa Takayuki
_____
International Shogi Magazine Issue 1
Open or download from the link below (PDF file 15MB):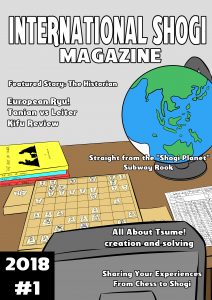 Table of contents:
A Word from the Editor by Karolina Styczynska
Subway Rook by Shun Tokuni
Ishida Style Basics by Andree Viklund
European Ryu by Twan Burg
Polish Shogi Championship 2018 – final game review by Krzysztof Stoigniew Sieja
From Chess to Shogi by Tyler Brown
An Interview with Keiichi Abe, head of Singapore branch, JSA by Jim Tan
Pairing systems in amateur tournaments by Krzysztof Stoigniew Sieja
Shogi, Martial Art by Nicolas Zellner
How to teach shogi by using Mini-games – part 1 by Grzegorz Adaszewski
Tsume Shogi Decomposition by Kai Wan Leung
Creating tsume shogi puzzles from real endgames by Kai Wan Leung
Saving Ben-Hur (Part 1) by Jim Tan
Shogi and Chess by Sergej Korchitskij
Introduction of Yoninshogi/四人将棋 by Ng Teck Sen
The Historian by Frank Rövekamp
Militarism vs Democracy: The Debate over Shōgi's Ideological Character by F. Mondelli