Magazyn ISM został zawieszony. Możesz promować swoją działalność shogi przez mojego bloga, stronę lub chanel youtube.
_____
Artykuły opublikowane poza magazinem:
An Interview with Yosuke Mizutani, developer of Shogi Playground by JIM TAN, SINGAPORE
_____
Wyniki głosowania na najlepsze artykuły (nagrody jeszcze nie rozdane).
Nagrody będą przynane za:
Najlepszych autorów z każdego wydania magazynu (jedna nagroda dla osoby)
Specjalne nagrody dla wspomagających magazyn
Zwycięzcy:
Wydanie #1
Ng Teck Sen (Ketam Ng)
Shun Tokuni
Nicolas Zellner
Wydanie #2
Richard Sams
Yuji Noguchi
Krzysztof Stoigniew Sieja
Wydanie #3
(Horiguchi sensei was popular, I will give him other type of prize since he can have all the souvenirs he wants from Japan)
Jim Tan
Austin Rucker
Johan Kocur
Wydanie #4
Frederik Wiethölter
Frank Jia
(Akiko Nakakura ladies pro was popular, I will give her other type of prize since she can have all the souvenirs she wants from Japan)
Nicholas Robert Beckham
Nagrody specjalne:
Petr Makhnev (breathtaking design for the second issue)
Eric Kuniholm (flawless proof-reading)
Eric De Las Casas (amazing cover and illustrations)
_____
Podczas pisania pracy magisterskiej na temat rozwoju shogi w Europie, znalazłam wiele problemów nękających społeczeństwo shogistów, np. brak materiałów do nauki po angielsku, brak wiedzy na temat jak nauczać shogi, oraz brak wymiany informacyjnej między krajami. Trudno jest rozwiązać te problemy szybko – tworzenie nowych książek zabiera zbyt dużo czasu a informacje na temat shogi w innych krajach są porozrzucane po internecie.
Dlatego też, oto jest mój pomysł na rozwiązanie: tworzenie magazynu o shogi.
pisany przez entuzjastów shogi i wolontariuszy (każdy może się podzielić swoimi doświadczeniami)
online i darmowy (dostępny dla każdego)
publiskowany raz na trzy miesiące (dobre artykuły potrzebują czasu)
Magazyn zawiera przemyślenia, odczucia, reportaże, własne analizy, skomentowane gry, nowe strategie, newsy ze świata, galerie zdjęć oraz dyskusje na różne tematy.
Mamy nadzieje, że pozwoli to utworzenie platformy na wymienę informacji i opinii. Jest to potrzebne dla promocji shogi na świecie.
Jeśli chciałbyś dołączyć do projektu albo podzielić się swoją opinią, wyślij mi emaila oneye@windowslive.com lub napisz na facebookowej grupie ISM.
____
International Shogi Magazine #4 [ENG]
Otwórz lub ściągnij używając linku poniżej (plik PDF 18.5 MB):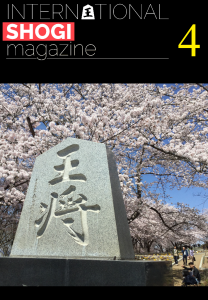 Spis treści:
A Word from the Editor – Karolina Styczynska
Special contest for the best articles
Ask us a question and we will find the answer! – Johan Kocur
Shogi Dojo Lyon and other study materials – Frederik Wiethölter
Message from I-tsu-tsu Co. Ltd. – Akiko Nakakura
Shogi Mini Puzzles (part 2) – Koji Horiguchi
The element of surprise – Lim Zhuo Loon / Jim Tan
Wroclaw Shogi Club – Krzysztof Sieja
The basic philosophy on Shogi (2) – Ng Teck Sen
Development of Shogi in Indonesia Q1 2019 – Nicholas Robert Beckham
Shogi Australia – First Steps Of Shogi In The "Land Down Under" – Frank Jia
_____
International Shogi Magazine #3 [ENG]
Otwórz lub ściągnij używając linku poniżej (plik PDF 35 MB):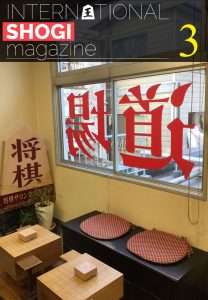 Spis treści:
A Word from the Editor – Karolina Styczynska
Ask us a question and we will find the answer! – Johan Kocur
WSL 2019 Invitation – WSL Team
Top Professionals' Viewpoint: Leading Players Assess Fujii's Shogi; Part I – Mima Kazo / trans. Richard Sams
Shogi Mini Puzzles (part 1) – Koji Horiguchi
Ben Hur (Part 3) – Jim Tan
Why should you visit 11th Cracovia Shogi tournament? – Krzysztof Sieja
The 6th Asia Shogi Tournament 2018 – Jim Tan
Keep King and Rook apart! (comic) – Austin Rucker
The Basic Philosophy on Shogi – Ng Teck
Shogi dictionary – Chi Him Wong
FESA data in web application – Adrian Woloszyn
_____
International Shogi Magazine #2 [ENG]
Otwórz lub ściągnij używając linku poniżej (plik PDF 8,4 MB):
ISM 2/2018 (wersja z 2018/08/13: poprawione artykuły "Interview with Sota Fujii " i "Saving Ben Hur")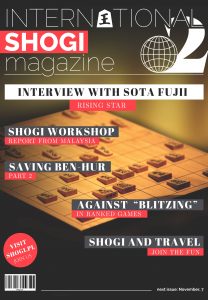 Spis treści:
A Word from the Editor – Karolina Styczynska
Illustration – Eric De Las Casas
Love Poem from the Heart – Marcel Keitsch
Against "Blitzing" in Ranked Games – Krzysztof Stoigniew Sieja
Interview with Sota Fujii – Shogi Sekai/Shinta Kitano (trans. Richard Sams)
Saving Ben Hur, Part 2 – Jim Tan
How to Teach Shogi in Non-Asian Countries? – Grzesiek Adaszewski
Shogi Workshop, Report from Malaysia – Ng Teck Sen
How about Travel with Shogi Pieces? – Yuji Noguchi
Shogi and Neuroscience – Ng Teck Sen
Dan/Kyu Scales – Ishikawa Takayuki
_____
International Shogi Magazine #1 [ENG]
Otwórz lub ściągnij używając linku poniżej (plik PDF 15MB):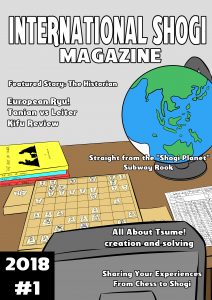 Spis treści:
A Word from the Editor by Karolina Styczynska
Subway Rook by Shun Tokuni
Ishida Style Basics by Andree Viklund
European Ryu by Twan Burg
Polish Shogi Championship 2018 – final game review by Krzysztof Stoigniew Sieja
From Chess to Shogi by Tyler Brown
An Interview with Keiichi Abe, head of Singapore branch, JSA by Jim Tan
Pairing systems in amateur tournaments by Krzysztof Stoigniew Sieja
Shogi, Martial Art by Nicolas Zellner
How to teach shogi by using Mini-games – part 1 by Grzegorz Adaszewski
Tsume Shogi Decomposition by Kai Wan Leung
Creating tsume shogi puzzles from real endgames by Kai Wan Leung
Saving Ben-Hur (Part 1) by Jim Tan
Shogi and Chess by Sergej Korchitskij
Introduction of Yoninshogi/四人将棋 by Ng Teck Sen
The Historian by Frank Rövekamp
Militarism vs Democracy: The Debate over Shōgi's Ideological Character by F. Mondelli